A standard practice in the foodservice industry is to have new hires sit through a training session and Honeygrow, a fast-food chain that specializes in stir-fry and salads follows the same procedure with their recruits. Cleaning up messes, stocking the fridge, and preparing menu items are topics discussed in the training. With that said, applicants don't necessarily need to don aprons or follow someone's footsteps to know the ropes. They don't also need to sit through a safety video or focus their attention on a thick handbook. They use VR.
Applicants are given a Honeygrow location tour made possible through a virtual reality headset which allows them to have a 360-degree view of the surroundings while hearing from founder and CEO Justin Rosenberg about company values. The same immersive and engaging training experience is provided across Honeygrow's 17 (and counting) locations.
Many of the new recruits have already been exposed to some of the VR training features during their interviews and are ready for training. Honeygrow collaborated with Philadelphia-based Klip Collective to use this experience as a recruitment tool with their virtual tours.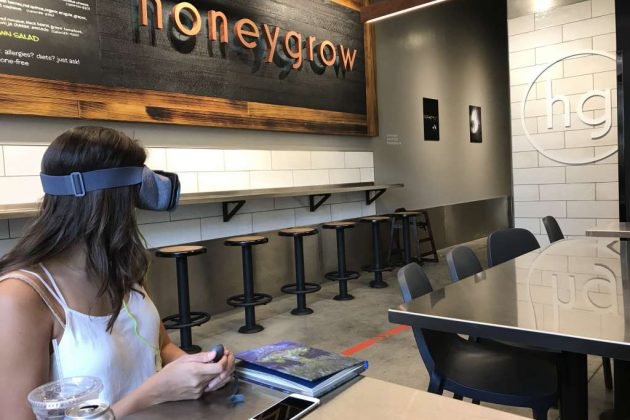 Recruits will be able to immerse themselves in a game in which they virtually stock an animated walk-in refrigerator as they watch real-life employees in action with Honeygrow's VR training. The game is fully realized with ambiance and music that plays corresponding animal sounds which users input through remote control with falling confetti to reward players for completing the game.
It should be noted that Honeygrow is not the sole retail company that has integrated VR to employee onboarding. Walmart, for example, has shown interest in incorporating the technology into its 200 training academies in early June of 2017 from which more than 140,000 associates graduate annually by the end of the said year. Walmart worked hand in hand with Strivr, a VR research and development startup that was formed out of Stanford University's Virtual Human Interaction Lab. According to its Website, Strivr utilizes VR to improve the overall performance of athletes, brands, and organizations. A 30 percent increase in the ability to recall topics is what NFL quarterbacks who trained with Strivr have experienced, which is quite impressive.
Even though Walmart does not usually release data with regard to the result of its VR training pilot program, a company spokesperson has disclosed information that they have received significant results enough for them to expand the program. The company was able to notice a huge improvement in both the retention of the material as well as engagement with the content.
In early May, Honeygrow began rolling their VR training out for testing. The company has been keeping track of what percentage of its managers were certified on several categories within its training program even before adding VR. As a result, Honeygrew received an increase of team members who were certified of culture from 50 to 77 percent just within 30 days of implementing VR technology.
You may also start training your employees through virtual tours. Virtual Tour Easy is a virtual tour creator that can help you create interactive virtual tours in just a few seconds. Try creating one today!