Ever wondered how successful real estate agents boost their sales and business? It's because these agents incorporate real estate tours in their marketing plan. A virtual tour lets them promote their listings in an interactive way without requiring your client to see the properties personally.
Still isn't convinced? Here are the compelling reasons and benefits most real estate agents get from the virtual tour.
Why You Should Incorporate Real Estate Tour
According to experts, a real estate tour can make a huge difference in selling your property effectively. The Vice President of Sotheby's International Realty, John Passerini, says virtual reality is becoming a trend nowadays. The consumers now prefer to inspect a house or property at the expense of their own time availability.
So instead of allocating time to physically meet with an agent to inspect the house, they prefer a virtual tour instead. Of course, a virtual tour cannot provide a perfect view of your properties. However, they can be incredibly useful, especially if you're targeting overseas customers.
The Study
Research shows that around 90% of buyers start their property search by browsing the internet. While real estate listings are good, they're stationary and it cannot provide the interactive experience most customers seek.
This is where most real estate agents fail to accommodate their concerns. According to the American National Association of Realtors, only 14% of real estate agents incorporate virtual real estate tours in their business.
Whereas an astounding 45% of buyers reveal they seek virtual tour when searching for their prospective real estate properties. They find the virtual tour to be incredibly useful in deciding whether to buy a particular house or not. Lastly, listings with a virtual reality tour tend to rank first in Google's search engine.
Creating a Virtual Real Estate Tour
You might wonder what it takes to create a real estate tour for your business. Well, you're in luck! We're here to help you create your first virtual tour! It helps in showing all the corners and angles of your house for better visual staging.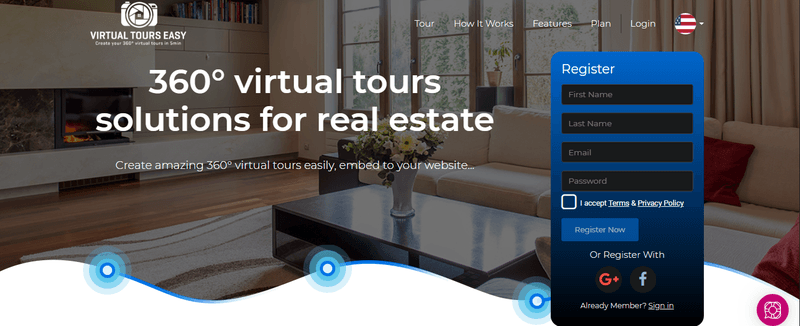 We guarantee you that creating a virtual tour is incredibly easy. You won't even need to hire a professional photographer! What's more? You can try it for FREE!
Sharing Your Virtual Tour
What's great with virtual real estate tour is that it's also easy to share it across multiple channels and platforms. Our software allows you to embed the virtual tour on your website, blog, or even on social media pages.
Social Media sites like Facebook, Twitter, etc also let you incorporate virtual tour to grab your audience's attention. Studies also show social media users prefer to interact with videos, virtual tours, or animated images than text and static photos.
Increase in Booking and Sales
According to experts, a virtual tour isn't only applied in the real estate industry, but it's also widely used in the hospitality industry. In fact, most hotel owners reveal their reservation and sales booking increased by 70% after using a real estate tour.
They've also sold their expensive and premium rooms since they're able to highlight the different features when comparing a standard vs. deluxe, luxury, or premium rooms.
Moreover, the restaurant owners also reveal their customers surged after posting a virtual tour. They get to highlight their mouthwatering foods and project their establishment's beautiful ambiance.
Conclusion
There's no doubt that more and more customers rely on a real estate tour before purchasing a property. Take advantage of technology and take your marketing to the next level! So what are you waiting for? Sign up to our basic virtual tour software now for FREE!